CASIA Gait Database
  Gait recognition has been an active research topic in recent years. The Institute of Automation, Chinese Academy of Sciences (CASIA) provide the CASIA Gait Database to gait recognition and related researchers in order to promote the research. In the CASIA Gait Database there are three datasets: Dataset A, Dataset B (multiview dataset) and Dataset C (infrared dataset).
Dataset A (former NLPR Gait Database) was created on Dec. 10, 2001, including 20 persons. Each person has 12 image sequences, 4 sequences for each of the three directions, i.e. parallel, 45 degrees and 90 degrees to the image plane. The length of each sequence is not identical for the variation of the walker's speed, but it must ranges from 37 to 127. The size of Dataset A is about 2.2GB and the database includes 19139 images.
The format of the image filename in Dataset A is 'xxx-mm_n-ttt.png', where
xxx: subject id,
mm: direction,
n: sequence number,
ttt: frame number in a sequence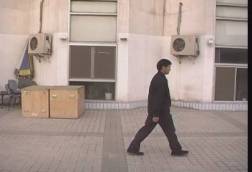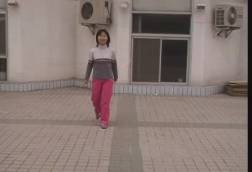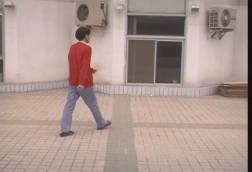 Dataset B is a large multiview gait database, which is created in January 2005. There are 124 subjects, and the gait data was captured from 11 views. Three variations, namely view angle, clothing and carrying condition changes, are separately considered. Besides the video files, we still provide human silhouettes extracted from video files. The detailed information about Dataset B and an evaluation framework can be found in this paper .
The format of the video filename in Dataset B is 'xxx-mm-nn-ttt.avi', where
xxx: subject id, from 001 to 124.
mm: walking status, can be 'nm' (normal), 'cl' (in a coat) or 'bg' (with a bag).
nn: sequence number.
ttt: view angle, can be '000', '018', ..., '180'.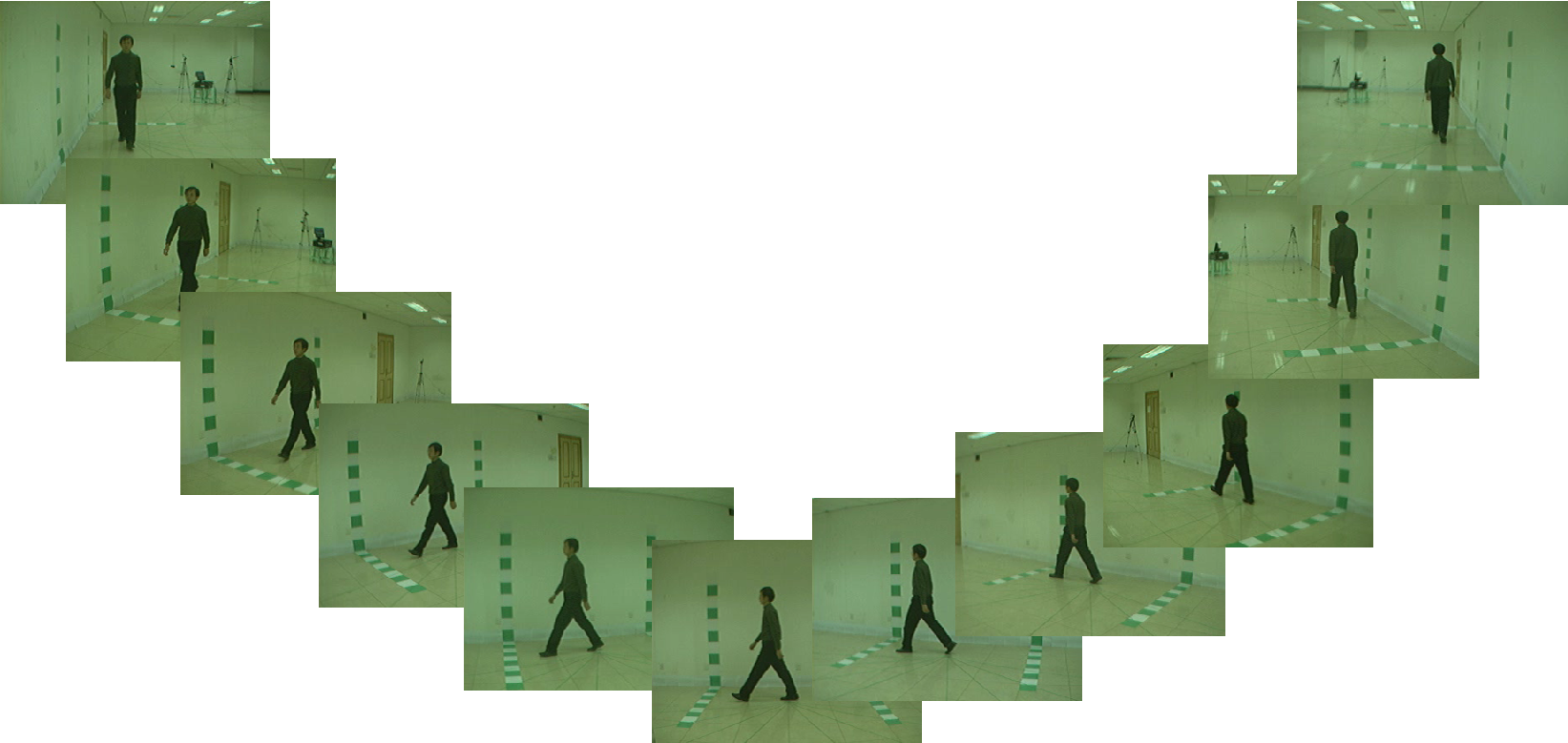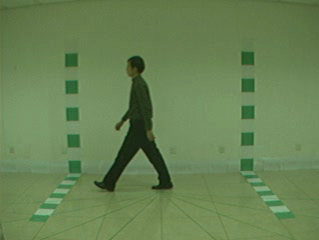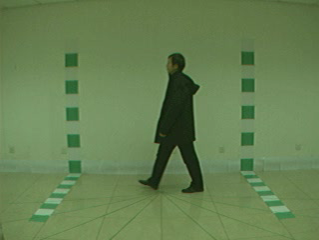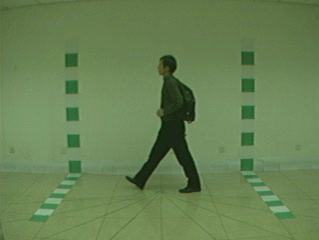 Dataset C was collected by an infrared (thermal) camera in Jul.-Aug. 2005. It contains 153 subjects and takes into account four walking conditions: normal walking, slow walking, fast walking, and normal walking with a bag. The videos were all captured at night.
The format of the video filename in Dataset C is '01xxxmmnn.avi', where
xxx: subject id, from 001 to 153.
mm: walking status, can be 'fn' (normal), 'fq' (fast walk), 'fs' (slow walk) or 'fb' (with a bag).
nn: sequence number.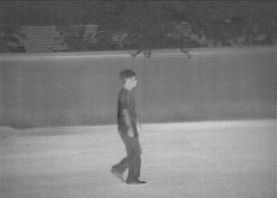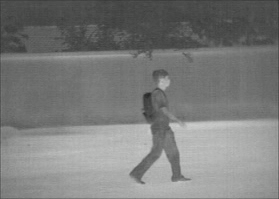 Dataset D was collected synchronously by camera and Rscan Footscan in Jul.-Aug. 2009. It contains 88 subjects and takes into account real surveillance scenes and wide age distribution. This Dataset can be considered as the attempts in exploiting the relations between behavior biometrics and its corresponding prints.The videos and images are collected indoor, while all the subjects are chinese.The details about the Dataset D is comming soon. You can donwload the mat file (for matlab user) from the link.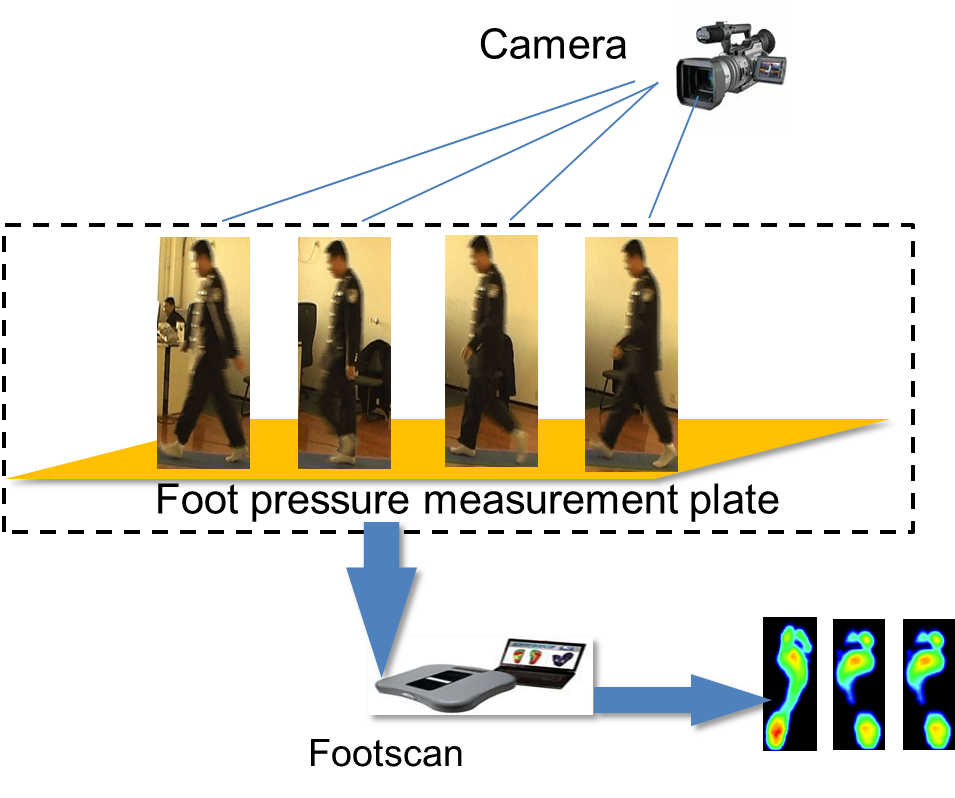 Download
If you just want the silhouettes, you can download here:
Dataset A (16M)
Dataset B (628M)
Dataset C (66M)
If you are interested in download the prepared Gait Energy Image features, please directly contact with Chunfeng Song via email:chunfeng.song@cripac.ia.ac.cn.
If you want the whole database (video files and silhouettes files), you should follow the steps:
Download database release agreement.
Sign the agreement.
Send a signed agreement copy to us by E-mail: casia_gait@nlpr.ia.ac.cn.
If your application is passed, you can download the dataset from our ftp server.
The whole database is about 10GB, and long time is needed to download it.
The DVDs are free of charge. But CBSR would NOT pay for the delivery, and YOU should pay for it.
NEWS:
Dataset B* (CASIA-B*) is a re-segmented version of CASIA-B processed by Liang et al. The extra import of CASIA-B* owes to the background subtraction algorithm that CASIA-B uses for generating the silhouette data tends to produce much noise and is outdated for real-world applications nowadays. They use the up-to-date pretreatment strategy to re-segment the raw videos, i.e., the deep pedestrian track and segmentation algorithms. As a result, CASIA-B* consists of the cropped RGB images, binary silhouettes, and the height-width ratio of the obtained bounding boxes. Please refer to Github for more details . If you need this sub-set, please apply with above mentioned instruction for downloading the whole dataset . In the Email Subject, please mark the specific dataset you need, i.e., Dataset B*.

Dataset E is coming soon, you can contact Dr. Song (chunfeng.song@cripac.ia.ac.cn) for more information.
Publications

Shuai Zheng, Junge Zhang, Kaiqi Huang, Ran He and Tieniu Tan. Robust View Transformation Model for Gait Recognition. Proceedings of the IEEE International Conference on Image Processing, 2011.[dataset]
Shuai Zheng, Kaiqi Huang, and Tieniu Tan. Evaluation framework on translation-invariant representation for cumulative foot pressure image. Proceedings of the IEEE International Conference on Image Processing, 2011.
Shuai Zheng, Kaiqi Huang and Tieniu Tan. Translation Invariant Representation for Cumulative foot pressure Image, The second CJK Joint Workshop on Pattern Recognition(CJKPR), 2010.
Liming Shi, Shuai Zheng. Representation for cumulative foot pressure images, China Criminal Police Journal 2010
Shiqi Yu, Tieniu Tan, Kaiqi Huang, et.al.A Study on Gait-Based Gender Classification. IEEE Trans. on Image Processing. pp:1905-1910,V18(8),2009.
Shiqi Yu, Daoliang Tan, and Tieniu Tan. A Framework for Evaluating the Effect of View Angle, Clothing and Carrying Condition on Gait Recognition. In Proc. of the 18'th International Conference on Pattern Recognition (ICPR06). Hong Kong, China. August 2006.
Daoliang Tan, Kaiqi Huang, Shiqi Yu, and Tieniu Tan. Efficient Night Gait Recognition Based on Template Matching. In Proc. of the 18'th International Conference on Pattern Recognition (ICPR06). Hong Kong, China. August 2006.
Shiqi Yu, Daoliang Tan, and Tieniu Tan. Modelling the Effect of View Variation on Appearance-based Gait Recognition. In Proc. of the 7'th Asian Conference on Computer Vision (ACCV06). Hyderabad, India. Jan. 2006.
Yuan Wang, Shiqi Yu, Yunhong Wang and Tieniu Tan. Gait Recognition Based on Fusion of Multi-ivew Gait Sequences. In Proc. of the International Conference on Biometrics 2006, pages 605-611. Hong Kong, China. Jan. 2006.
Shiqi Yu, Liang Wang, Weiming Hu, and Tieniu Tan. Gait Analysis for Human Identification in Frequency Domain.In Proc. of 3'rd International Conference on Image and Graphics, pages 282-285. Hong Kong, China, Dec. 2004.
Liang Wang, Tieniu Tan, Huangzhong Ning, and Weiming Hu, Fusion of Static and Dynamic Body Biometrics for Gait Recognition. IEEE Transactions on Circuits and Systems for Video. pages 149-158, Vol14, I2. Feb. 2004.
Liang Wang, Huazhong Ning, Tieniu Tan, Weiming Hu, Gait Recognition by Combining Static and Dynamic Body Biometrics, The 4th Chinese Conference on Biometric Recognition, 2003.
Liang Wang, Tieniu Tan, Huazhong Ning, Weiming Hu, Silhoutte analysis based gait recognition for human identification, IEEE trans Pattern Analysis and Machine Intelligence, Vol. 25, No. 12, pp. 1505-1518, 2003.
Liang Wang, Tieniu Tan, Huazhong Ning, Weiming Hu, Automatic gait recognition based on statistical shape analysis, IEEE Trans Image Processing, Vol.12, No. 9, pp.1120-1131, 2003.
Liang Wang, Huazhong Ning, Tieniu Tan and Weiming Hu, Fusion of Static and Dynamic Body Biometrics for Gait Recognition, IEEE International Conference on Computer Vision (ICCV), Vol. II, pp. 1449-1454, Nice, France, 2003.
王亮, 胡卫明, 谭铁牛, 基于步态的身份识别, 计算机学报, Vol. 26, No. 3, pp. 353-360, 2003.
Liang Wang, Weiming Hu, Tieniu Tan, Recent Developments in Human Motion Analysis, Pattern Recognition, Vol. 36, No. 3, pp.585-601, 2003.
Liang Wang, Huazhong Ning, Weiming Hu, Tieniu Tan, Gait Recognition Based on Procrustes Shape Analysis, IEEE International Conference on Image Processing (ICIP), Rochester, New York, September 22-25, 2002.
Liang Wang, Huazhong Ning, Weiming Hu, Tieniu Tan, A New Attempt to Gait-based Human Identification, International Conference on Pattern Recognition (ICPR), Vol. I, pp. 115-118, Quebec, Canada, August 11-15, 2002.
王亮,宁华中,胡卫明,谭铁牛,基于统计形状分析的自动步态识别算法,第三届中国生物特征识别学术会议,pp. 261-266, 西安,2002.
王亮 胡卫明 谭铁牛, 人运动的视觉分析综述, 计算机学报, Vol. 25, No.3, pp.225-237, 2002.
Liang Wang, Weiming Hu, Tieniu Tan, Face Tracking Using Motion-Guided Dynamic Template Matching, Proceedings of the Fifth Asian Conference on Computer Vision (ACCV), Vol. II, pp. 448-453, Melbourne, Australia, Jan 22-25, 2002.
王亮,胡卫明,谭铁牛,PCA Based Automatic Gait Recognition for Personal Identification,第二届生物特征识别研讨会,杭州,2001。